Stand By Generator Installation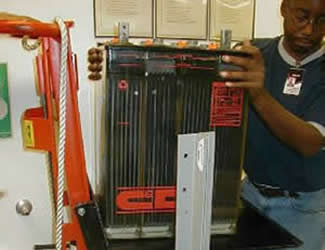 ATS Specializes in Stationary Battery Installations
Benjamin Franklin can't claim to be the inventor of electricity, but the eccentric Founding Father did help bring electricity to the world. Now, it's impossible to imagine life without electricity, which literally powers our lives. American inventors and engineers have put so many incredible things into the world, and now, American Technical Support wants to put the power of electricity into your hands. ATS is a full service stationary battery company that can deliver the custom energy solutions you need. Although we started our business to provide Florida stationary battery installations, we now service large corporations and telecommunication firms around the country. From our office located in Tampa, ATS employs a team of "hands on" specialists, highly skilled in Stationary Battery Installation, Removal, Preventative Maintenance, Battery Load Testing, and the proper Disposal of Lead Acid Battery Technology. Plus, we provide stand by generator installations, too.
Stationary batteries and stand by generators give you total control of your operations. With stationary batteries properly installed on site, you can ensure your most critical equipment is always up and running. And combined with the right back up battery system, you can stop worrying about unexpected interruptions and delays.
Our Full Service, Customized Stationary Battery Service Includes
Whenever ATS specialists perform an installation, they develop a detailed Method of Procedure (MOP) for the customer's approval. Before the batteries and electrical components leave our location, we rigorously pre-test each piece of equipment. Finally, our skilled electricians carefully install your new stationary batteries or back up power system to your exact specifications. Not only do we work with the most trusted stationary battery brands like UPS and Switchgear, but our specialists always follow a "Safety First" mindset. We adhere to only the strictest safety standards at all times.

What kind of batteries do we install?
Vented lead acid (wet cell batteries)
Valve regulated lead acid batteries (sealed)
Gel style batteries
Nickel cadmium products
Renewable energy batteries and the latest green energy products

In addition to our installation services, we also provide Stationary Battery Maintenance and Replacements, including UPS Battery Replacement and Lead Acid Battery Replacement. Our clients include some of the biggest names in telecommunications, and ATS has earned our reputation as the most trusted name in the industry.

Not sure what kind of stationary batteries or stand by generators are best for your needs? Our energy specialists love talking shop. So give us a call at (954) 725-2998.

The installation of a battery or common power system element, is vital in the satisfactory operation of any back up power system. Using vast experience and specialists in each area provides the user with the confidence that "its installed properly." Proper installation methods lead to longer life expectancy for equipment and provides proper operation of connected critical equipment.


When installations are performed, a pre-approved Method Of Procedure (MOP) is developed and provided for customer acceptance. Installation services begin prior to equipment on site. Pre-test of batteries or common electrical components is performed at our facility, prior to equipment being transported to a customer site for installation.




Any electrical installations such as those for UPS, Switchgear or other power related device is performed by certified, electrical contractors or electricians that are licensed and trained in their specialty area.




Battery installations are performed following industry standards for battery systems using IEEE-485, IEEE-1187 and IEEE-1106. These standards provide the user with a common approach that has been developed by users, manufacturers and service providers across the industry. All IEEE standards that are used in ATS installations supersede the specific installation requirements of each manufacturer. We also offer stand-by generator installation. Contact us today.




to view more photos of battery installations.
Custom Installation Solutions Based On Experience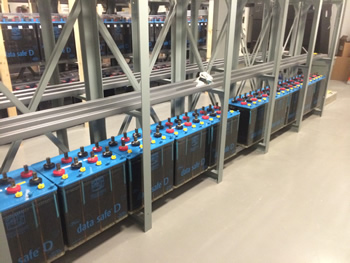 The experience in the area of battery installations is of the elitist in the industry. Following the latest standards and OEM manuals, ATS provides proven installation techniques. Always following safe work practices, ATS technicians have provided services to some of the most recognizable, critical facilities in the country. Battery installations performed include:
Vented lead acid (wet cell batteries)
Valve regulated lead acid batteries (sealed)
Gel style batteries
Nickel cadmium products
Renewable energy products