ATS Battery Training and Workshops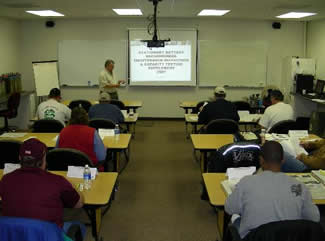 In conjunction with ESA Consulting, Inc., ATS provides storage battery seminars and workshops.
ATS and ESA Consulting combine the most up-to-date battery training seminar and workshop in one location.
Discount rates are available for those that combine both training sessions. In addition, group discounts for multiple students from the same company are also offered.
This most current training program has been offered for over fifteen years and is continuously updated, different from other "expert" companies that rarely update their training presentations. Recently, each of the two courses were updated to reflect state-of-the-art in stationary batteries today. The offered training program is broken into two courses; seminar and workshop. For more specific information on these two courses, please see the Course Information section below.
The ESA Consulting Battery Training Program is like no other offered. Materials provided become an invaluable reference. A certificate and 1.4 CEUs will be awarded to each participant that successfully completes the workshop or seminar. If both courses are completed, 2.8 CEUs will be awarded.
Space is limited and registration will be accepted only until space is filled. This program is one not to miss if your job description includes Stationary Battery Systems.
---
Battery Seminar & Workshop Details
Battery Seminar Instructors
The instructors for the Seminar and the Workshop are the finest ever assembled for a stationary Battery course. Each instructor teaches specific portions of the course.
Mr. Marco Migliaro - has been a leader in the field of Stationary Batteries. Marco has written more than 40 technical papers and has contributed to seven books. He has also developed a one-of-a-kind battery maintenance CD ROM. Marco was elected Fellow of the IEEE in 1998 for his work related to batteries.
Mr. Bob Leissle - with many years of experience in maintenance and testing of Stationary Battery Systems. In addition to battery applications, Bob has a high degree of familiarity with various pieces of battery test equipment and battery monitoring systems, along with first-hand knowledge to the functionality of many major battery products by several manufacturers.
Materials and Times
Each participant receives a complete set of handouts for the course that they attend. the battery seminar begins each morning at 8:00AM. A continental breakfast is provided at 7:30AM each day. Lunch is also provided each day. Participants are responsible for payment of all other expenses associated with the course.
Battery Maintenance & Testing Seminar
The first portion of this training program is a two day Battery Seminar. The Battery Seminar is designed for almost anyone and provides a great understanding for those interested in stationary battery systems. A great introductory as well as refresher course for those that have an interest in this subject.
The Battery Seminar includes modules on Battery Parameters; Installation Methods; Maintenance Procedures; Testing Schedules and Procedures; and Battery Monitoring. Additionally, a review of each module is discussed at the conclusion of each presentation. Open discussion and questions are always welcomed. Interaction between participants allows for first hand experiences to be shared with all.
Stationary Battery Workshop
The Workshop portion of the training program is an advanced battery course for individuals with at least a "general understanding" of stationary battery systems. A novice or individual with little or no battery experience should participate in the two day battery seminar offered prior to participating in the Stationary Battery Workshop.
The Workshop begins with a Review of Battery Selection and Sizing. A round-table discussion and a series of case study problems follows the review portion.
Typical case studies include: analysis of capacity test data to determine the validity of the test and the time interval to the next test; evaluation of factory float and acceptance test criteria data to determine whether cells have met the owner's specification; comparison of various cell conditions to determine the ability of a cell(s) to function in the string; developing a battery duty cycle; evaluating a specification used to purchase a battery; selecting a battery for various applications; specifying capacity tests for batteries in various applications; evaluation of intercell connection data; evaluation of cell impedance/resistance/conductance; and many more topics.
The "Stationary Battery Workshop" offers participants a unique opportunity to solve real problems in a workshop-type setting. The workshop was designed for the "experienced" battery user and will challenge his/her skills in analysis of data to determining required corrective actions.